A perspective on calling out Kadri, Marlies roster and alternate jerseys.
Kadri is fat. There, I said it. I would now say "let's move on," but should we? Has it come to this level of frustration on behalf of the Leafs' brass that they now need to publicly humiliate the kid? Is it humiliation? After all, we're not talking about a teenager anymore. We're talking about an adult who can make his own choices, and apparently that choice is to not dedicate his body to a healthy diet and exercise regime that would compliment his million dollar paycheck. Sympathy? Does he deserve sympathy? On one hand, if you're a parent, you wouldn't want someone going public about how your kid is one of the fattest kids on the team. On the other hand, he's a "professional" athlete who was drafted high, had a ton of promise, and earned a team's cash-input to attempt to develop him.
Nazem Kadri trained with Gary Roberts and will never be invited back. He has embarassed the Roberts' camp and he's embarassed himself. But Don Cherry is a Kadri supporter.
"I have never in my life seen a kid treated like Nazem Kadri by the Leafs," said Cherry. "It started in his first training camp where he led the team in scoring but was blasted for his defensive faults. They don't blast [Nikolai] Kulemin who scored 7 goals. They give him 5 million dollars. Now Marlie coach comes out and rips Kadri in the newspaper saying he doesn't eat properly. Imagine headlines saying he's chubby and fatso. If anyone wants to get a blue print on how to destroy someone, just follow the Toronto Maple Leafs."
That right there is the bigger question. It's not whether or not the decision to talk about Kadri's shortcomings are appropriate over the last week, it's based on the public information that has been said about this prospect since he joined the organization.
Nazem Kadri needs to either take this in stride and motivate himself to be even better, or he is the victim as the latest scapegoat. Remember, the last time we talked about a Leaf being fat is Kyle Wellwood.
-------------------------------------------------------
The Marlies are expected to make some cuts soon, but the following are the players listed on their training camp roster:
Forwards: Spencer Abbott, Will Acton, Carter Ashton, Keith Aucoin, Tyler Brenner, Sam Carrick, Joe Colborne, Andrew Crescenzi, Jerry D'Amigo, Nicolas Deschamps, Jamie Devane, Ryan Hamilton, Adam Hughesman, Nazem Kadri, Leo Komarov, Greg McKegg, Brad Ross, Kenny Ryan, Greg Scott and Mike Zigomanis
Defencemen: Jesse Blacker, Mark Fraser, Jake Gardiner, Ryan Grimshaw, Simon Gysbers, Korbinian Holzer, Mike Kostka, Paul Ranger, Corey Syvret and Dylan Yeo
Goaltenders: Andrew Engelage, Mark Owuya, Jussi Rynnas and Ben Scrivens
-------------------------------------------------------
The Toronto Marlies have also introduced their new alternate jerseys for the upcoming season and they are a vast improvement from their ridiculous dog jerseys. The new ones are a throwback to the old Toronto Marlboros jerseys, and I say they are stylish... you know, compared to a stupid dog eating a puck.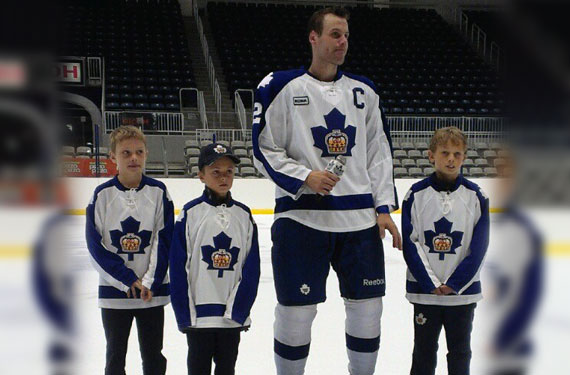 Be sure to keep tuning back here to find out how your Marlies are progressing this upcoming season. Can they repeat their performance from last year and fight for an AHL title? Give us your thoughts in the comment section.
Missing some hockey action? Consider yourself an arm-chair GM? Then you need to get into the free, action packed NHL Simulation where you compete and negotiate with 29 other GMs and a Player Agent for the most realistic fantasy experience on the net. And, it runs year round! Win a Cup? Win cash! Click here to join in on the action!